Rocky Top to Cowiche Mountain Summit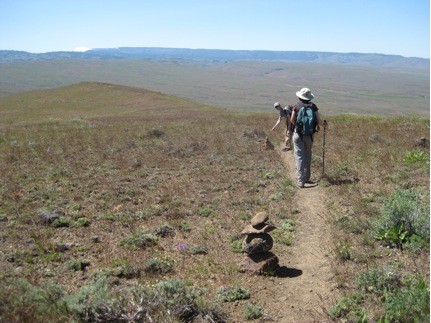 Length: 3.2 miles (one-way to radio tower)
Beginning Elevation: 1,820 feet
End Elevation: 2,968 feet
Elevation Gain: 1,148 feet

Trailhead: From Yakima, travel West on Summitview to 96th Avenue. At 96th Avenue continue West on Summitview for 2.75 miles. Turn Left onto Rocky Top Road at crest of the hill (Anderson Rock). Travel ½ mile West to parking lot ringed by basalt boulders.
This trailhead near Yakima provides easy access to the William O. Douglas Trail across shrub-steppe and ridge top lithosols with beautiful spring wildflowers, including balsam root, buckwheat, bitterroot, phlox, brodiaea, lupine, and cushion daisy. The trail up to Cowiche Mountain summit provides sweeping vistas of the upper Yakima and Naches valleys along with the Cascades Mountains.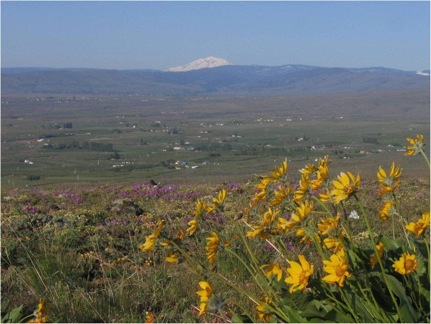 From parking lot, ascend on double-track road for .8 mile, then turn right at single-track trail with a right arrow. Follow the trail and markers for the William O. Douglas Trail. Once on ridge, follow double-track trail to ridge top viewpoint and return to parking lot (3 mi. round trip) or go further along ridge to radio tower (6.4 mi. round trip).
Location                    One-way mileage                Elevation
Parking lot                           0                              1,820'     
Single-track trail                   0.8                            2,150' 
Ridge                                  1.25                          2,300'     
Viewpoint                            1.5                            2,460'   
Cattle gate                          2.0                            2,600'  
Radio Tower                         3.2                            2,968'  
Carry water and close cattle gate!